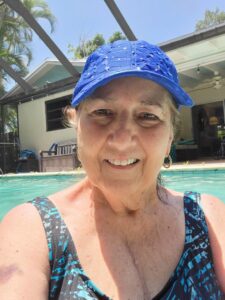 I'm such a lucky girl!😁
Today, around midday, I spent a whole hour in my happy place…the pool. Yes, with Santana playing…moving around, jogging, dancing, smiling.
What's so amazing is that… you know that 6 months plus that I was in hospital? Being treated one way or another, I never thought about nor missed my happy place, my pool time.
What I know is that it resides in the subconscious…it lives in my soul, so when the time was right (like now!)it came back out…it emerged naturally, with all the happiness and all the joy and all the delight possible…. And without any of the longing that we think might precede it. Nope!
I share this so that you do not doubt for a single moment, that your own happy place is waiting underground for such time as when you naturally gain the strength, and the energetic alignment to meet up with it again.
Keep the faith… it's all in your soul.💜💜
Oh and by the way it's thundering and raining right now. 😉
I love you and i'm so glad you're here. Please keep coming back to visit, read, think, feel, grow…
Love,
Jan
Comments
comments